April 16, 2021
Rep. Mike Levin Honors Co-Directors of Dana Point Whale Watching Company as His Constituents of the Month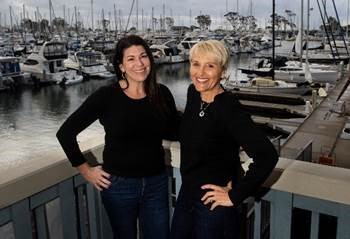 Donna Kalez and Gisele Anderson are Rep. Levin's Constituents of the Month.
San Juan Capistrano, CA – Today, U.S. Representative Mike Levin (D-CA) announced Donna Kalez of San Clemente and Gisele Anderson of San Juan Capistrano as the April Constituents of the Month, honoring them for their efforts with the World Cetacean Alliance (WCA) and making CA-49 history by establishing Dana Point as the first Whale Heritage Site in the United States.
See below for Rep. Levin's statement recognizing Donna Kalez and Gisele Anderson in the Congressional Record:
"Madam Speaker, it is my honor to recognize Donna Kalez and Gisele Anderson for my April Constituents of the Month. My district is home to more than 50 miles of beautiful California coastline, which includes some of the most incredible marine and sea life. Sightings of whales and dolphins off the beach and marina have brought tourists and locals alike to Dana Point for decades. Making this local phenomenon more accessible, Donna and Gisele collaborated as co-directors of the Dana Point Whale Watching Company for sightseers to experience the magic up-close.
"Their advocacy for local cetacean brought joy to all who frequent the city, but Donna and Gisele thought bigger, believing the world also deserved to know just how special the marine life experience in Dana Point is. With their combined effort to put the city's name on the map by showcasing the exceptional 450,000 'dolphin stampede' and year-round sightings of rare whales, Donna and Gisele worked together to earn Dana Point well-deserved international recognition.
"In order to make that happen, the women formed a steering committee composed of civic, scientific, academic, business and community leaders, overcame challenges posed by the COVID-19 pandemic, and competed internationally to achieve the title that honors Dana Point's tradition as a pioneer in marine conservation. Due to their diligent work with the World Cetacean Alliance (WCA), Dana Point is officially recognized as the first and only Whale Heritage Site in the Americas and one of only four in the world. Better yet, they took the extra step to legally trademark Dana Point as the Dolphin and Whale Capital of the World.
"As a native Southern Californian, I know first-hand how incredibly special our coastline and marine life are to the community. I'm grateful to Donna and Gisele for leading the charge in also letting the world know just how blessed we are to have these incredible creatures right here in our backyards. As leaders in the community, I thank them both for their advocacy and trail blazing efforts of bringing global attention to the United States of America being home to the most amazing populations of dolphins and whales like nowhere else in the world, especially in Dana Point. I'm honored to recognize them both as my April Constituents of the Month."
Representative Levin's Constituent of the Month program recognizes outstanding North County San Diego and South Orange County Residents who have gone above and beyond to help their neighbors, give back to their community, and make the country stronger. Levin's Constituent of the Month for March was Oceanside resident and Executive Director of Leap to Success Dana Bristol-Smith for her work in helping women overcome trauma and abuse. His February Constituent of the Month was North San Diego County NAACP President Satia Austin for her activism with young adults in the District.
To nominate a resident of the 49th District to be the Constituent of the Month, fill out this nomination form.
###