Congressional App Challenge

Launched in 2015, the Congressional App Challenge is an annual competition hosted by members of the U.S. House of Representatives for middle and high school students in their districts. This nationwide effort allows students to compete against their peers by creating an original software application (or "app") for web, PC, tablet, mobile, or any other platform of their choice. Students can use any programming language and there are no limits on an application theme or topic.
The Challenge is intended to highlight the value of computer science and STEM (Science, Technology, Engineering and Math) education. It encourages students to learn to code and inspires them to pursue careers in computer science.
Registration and Eligibility:
Student registration is now open. For more information on how to register, please visit the official Congressional App Challenge website at CongressionalAppChallenge.us, or contact our Oceanside office at (760) 599-5000.
The competition is open to all students who meet the eligibility requirements, regardless of coding experience. To participate, you must be a middle or high school student at the time of app submission. You may compete as an individual or in a team of up to four people. For students competing on their own, the student must either live or go to school in the 49th Congressional District. For teams, at least half of the students must either live or go to school in the district.
2021 Winner: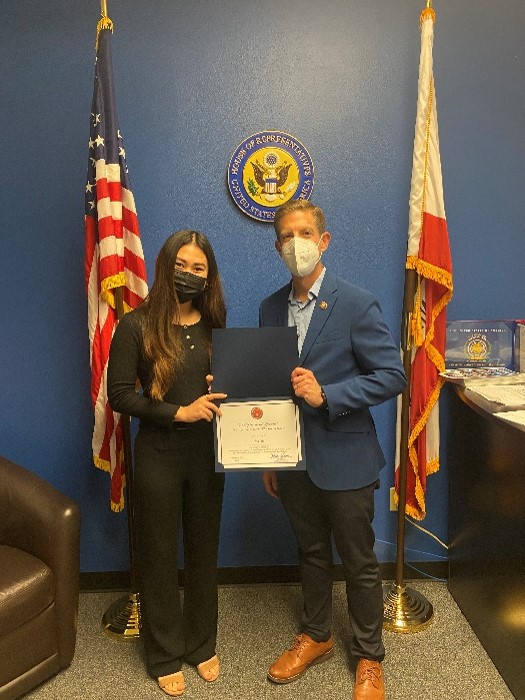 The 2021 winner for California's 49th Congressional District is Tina Mai, an 11th grader at St. Margaret's Episcopal School in San Juan Capistrano. Tina created VAST, or Voice Accessible Story Technology. VAST is an accessibility driven app that helps youth with visual and learning disabilities write spoken-word stories with their voice. Tina Mai's app was chosen by a panel of expert judges.
Winners of the Congressional App Challenge will have their apps featured on CongressionalAppChallenge.us. Winning apps are also eligible to be displayed in the U.S. Capitol and on the official House of Representatives website, House.gov.