May 04, 2022
Rep. Mike Levin Visits Southern Border and Receives Briefing from CBP Officers at San Ysidro Port of Entry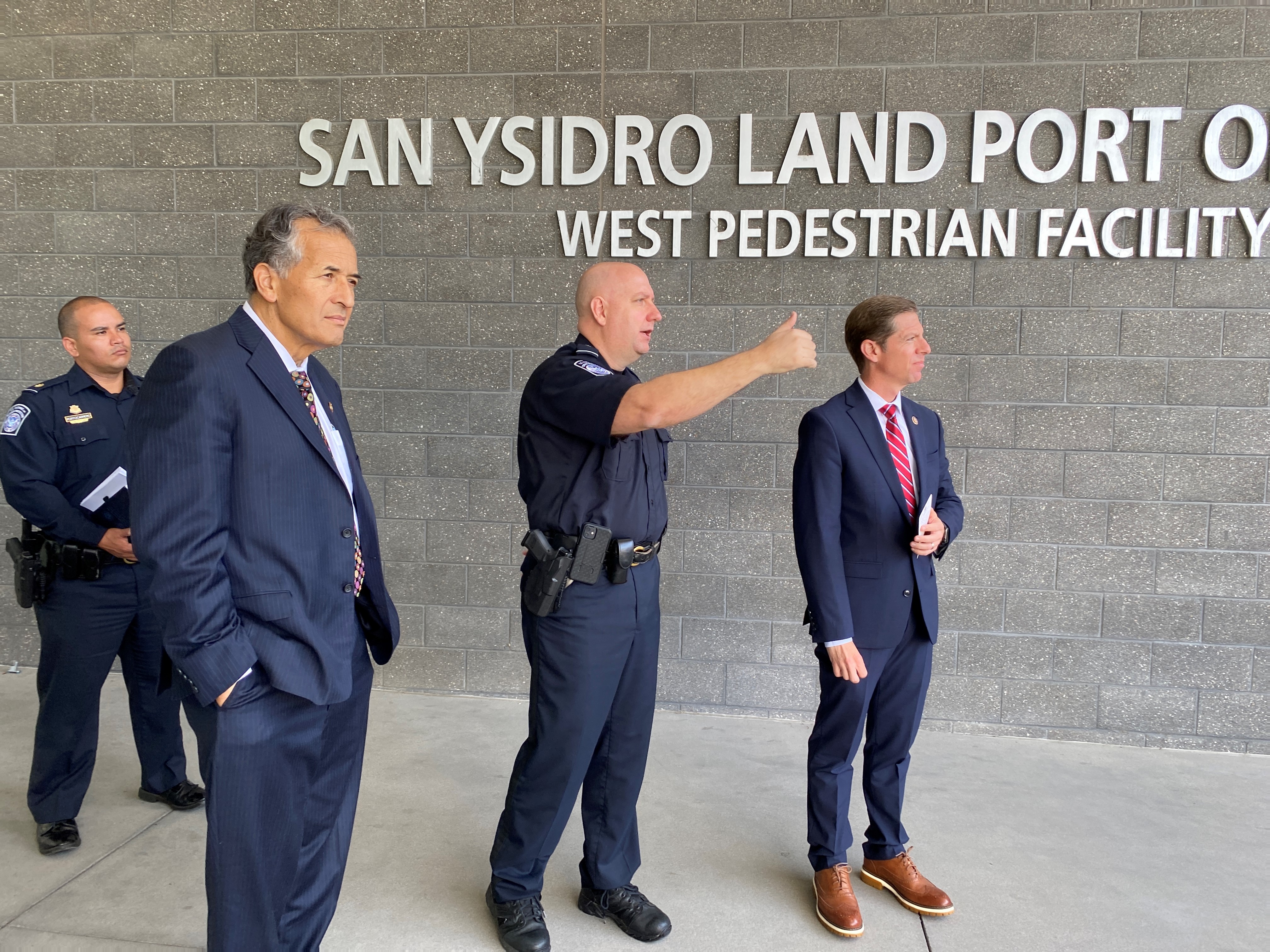 Reps. Mike Levin and Juan Vargas visited the San Ysidro Port of Entry on Wednesday.
Oceanside, CA – U.S. Representative Mike Levin (D-CA) visited the San Ysidro Port of Entry today and received a briefing from the San Diego Field Office of US Customs and Border Protection (CBP) on fentanyl smuggling, the planning related to Title 42 restrictions, and staffing issues at the Ports of Entry. Rep. Levin spoke with CBP officers about his support for additional federal action, both by the Administration and in Congress, to surge more resources to the border to address security and humanitarian challenges. Rep. Levin was also joined by Rep. Juan Vargas (D-CA).
"I was grateful for the opportunity to hear directly from CBP officers on the ground about the challenges they're facing and how I can best support them moving forward," said Rep. Levin. "There is no question that they need more help to combat drug and human trafficking and prepare for an expected influx of migrants at the border over the summer. As I told them, I am prepared to work with my colleagues on both sides of the aisle to support emergency funding in Congress to provide them with the resources they need. We must particularly do more to help CBP address its staffing challenges, as well as expand our capacity to process asylum cases efficiently. And while the lifting of Title 42 is on hold for now, I continue to believe the Administration must do much more to prepare for the effects of that rule coming to an end.
"Ultimately, members of both parties must recognize that our immigration system is fundamentally broken, and we need to come together on comprehensive immigration reform that both strengthens security and provides an earned pathway to citizenship. My maternal grandparents emigrated from Mexico because they wanted to achieve the American dream and create a better life for their children and grandchildren. I believe we can foster that same opportunity for future generations while also securing our border, and that's what I'm working in Congress to accomplish."
Rep. Levin has voted numerous times under the current and previous administrations to invest at our ports of entry with the technology and personnel that will secure our border. He has also supported funding for new technology to scan for drugs and detect unauthorized crossing to stop the flow of fentanyl across our southern border. This year, he helped pass $14.8 billion in funding for CBP and $8.26 billion for Immigration and Customs Enforcement (ICE). That includes $72.4 million for new aircraft and aircraft sensors, and $256 million for border technology. He also voted to provide CBP with strong funding in 2020 and 2021.
As a member of the Congressional Hispanic Caucus (CHC), Rep. Levin is a proud cosponsor of the American Dream and Promise Act to create a pathway to citizenship for eligible Dreamers and secure permanent residency for those with Temporary Protected Status (TPS) or Deferred Enforced Departure (DED) status.
###