July 14, 2021
Rep. Mike Levin Honors Revered Local Principal as Constituent of the Month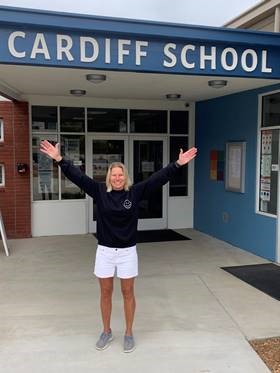 Julie Parker is Rep. Levin's Constituent of the Month.
Oceanside, CA – Today, U.S. Representative Mike Levin (D-CA) announced that local principal and Solana Beach resident Julie Parker is the July Constituent of the Month. Principal Parker is an educator and administrator with 34 years of experience, and after spending the last 26 years as a cherished part of the Cardiff School, she now begins a well-deserved retirement. During her time at the Cardiff School, she guided numerous groundbreaking programs, including Garden to Lunch, Cardio Club, and STEAM Lab. She also led the award-winning school through a massive renovation project.
During an unprecedented year, our educators found themselves rising to the occasion to navigate remote learning and keep students engaged. Embracing the challenges that COVID-19 brought, Principal Parker strove to keep morale high by hand-delivering personalized gifts to each of her teachers as a token of her gratitude for their commitment to education.
See below for Rep. Levin's statement recognizing Principal Julie Parker in the Congressional Record:
"Madam Speaker, it is my great honor to recognize one of my district's finest educators, Principal Julie Parker, as my July Constituent of the Month. After spending 34 years molding young minds and building a foundation for her students' success, Principal Julie Parker's journey came to a close with her well-deserved retirement. For the last 26 years, Julie was a source of leadership and inspiration for students, parents, and staff alike at the Cardiff School."
"As a father of two young children, I know from experience how valuable and cherished our educators are to our communities, and Principal Parker's passion for teaching and creating a thriving environment for youth is an inspiration. Seeking to ensure that her students have every opportunity to grow and flourish, Principal Parker played a significant role in the recent remodeling of the Cardiff School, which brought about critical improvements for students to embrace their gifts in the award-winning institution. She also guided the school through the creation of several successful programs that create well-rounded students, including Garden to Lunch, Cardio Club, and STEAM Lab. Under her devoted leadership, the school continues to strive for and achieve academic excellence."
"Through a year of uncertainty and challenges posed by the COVID-19 pandemic, Principal Parker went above and beyond to keep the fabric of her school's community strong. When the school moved to a virtual learning format at the onset of the pandemic, she took it upon herself to hand-deliver personalized gifts to each of her teachers at their homes. When her school resumed in-person learning months later, Principal Parker was the first to welcome her students and staff back to the campus. She has been an exemplary leader through these trying times."
"For her mentorship, kindness, and commitment to excellence, Principal Parker will be thoroughly missed in the education community, and I'm incredibly thankful for her passion to uplift and encourage our youth. I'm proud to honor her as my July Constituent of the Month."
Representative Levin's Constituent of the Month program recognizes outstanding North County San Diego and South Orange County Residents who have gone above and beyond to help their neighbors, give back to their community, and represent the best of our country. Levin's June Constituent of the Month was Joel Parker, a 17-year old Paralympian from Encinitas.
To nominate a resident of the 49th District to be the Constituent of the Month, fill out this nomination form.
###